'
REVIEWS!
''A primal performance'' by Malcolm Lewis Barnes
Robert McNamara delivers a riveting performance as Red Peter, a Silver Back Gorilla captured on the Gold Coast of Africa and put on display in Hamburg as an example of colonial Germany's civilized treatment of primates. Much like African slaves, Red Peter was traumatized with tranquilizers to the face after being lured by liquor to the coast before capture, and brutally seasoned on the 'middle passage' ship by a curious crew who taught the ape how to drink Schnapps and entertain the crew by rubbing his belly and dancing. McNamara embodies Red Peter's plight by brooding on the stark set of the black box theater with a hysterical limp supported by a curious cane caused by a second shot to the leg that left him unable to run from his captives like Kunta Kinte. He's called 'Red' Peter because the shot to the face disfigured his right cheek with a permanent rash ... McNamara delivers a hilarious one man monologue as he shocks his captive audience ... Report To An Academy is a comforting and Kafkaesque proof of the master race's discovery of the missing link between the savage dark continent and civilized Europe. ... For theater lovers with a taste for a dark brew, like a German Ale with a twist of the Twilight Zone, don't miss (it).
''a tour de force performance by McNamara'' by Jane Franklin
We experience struggle and strength of will as Red Peter, an intelligent captured ape, adapts and imitates his jailors because his very survival depends upon it. Red Peter's story of his former life are revealed as he presents the tale to a top scientific Academy -- the audience members who inhabit the intimate atmosphere of Lab I at the Atlas. Red Peter delivers his report five years after the fact and is ''more comfortable in the world of men.'' He tells of long hours in a 3-sided cage (with a locker on the 4th) so small the bars cut into flesh. McNamara folds his body on a spare wooden chair, squeezing an arm over his head to lend a sense of the confinement for the cage that had ''no way out.'' He learned to imitate the crew who was always teasing, poking, and spitting, as McNamara surprisingly and rhythmically demonstrates. ... Having attained the ''cultural level of the average European,'' we learn the reward was either the zoological garden or the variety stage. Obviously, the variety stage won out. Frequent sporadic dances with a cane are reminiscent of vaudeville soft-shoe, simple in repetition, yet delivered with an eagerness to entertain. The precise direction by Gabriele Jakobi allows for moments of reflection to fill the simple space, perhaps a recalling of being backed into a corner carved by circumstances with no way out ...
BRAVO!
Nanna Ingvarsson was nominated for a Helen Hayes Award for "Outstanding Supporting Actress in a Play" for her great performance as Eileen in The Cripple of Inishmaan.
Robert Croghan was nominated for a Helen Hayes Award for "Outstanding Costume Design" for his incredibly creative work in The Cripple of Inishmaan.

Congratulations!
IN MEMORIAM
Keith Parker Weygandt

1951 - 2016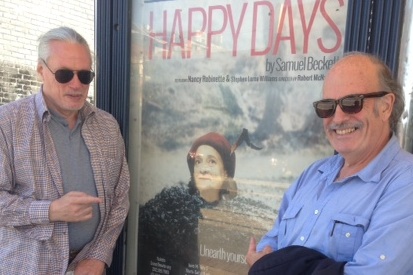 "Keith was incredibly generous, ferociously devoted to new writing, and incredibly kind. If anyone helped many a struggling talent, it was Keith. He did it with humor, irony and civility. Goodbye for now old friend. Colleague. Actor. Advisor. And one of the best conversationalists in the world.
-Robert McNamara
Unsubscribe Mail
SCENA Theatre participates in CultureCapital.com. Your Link to the Arts in Metro DC.