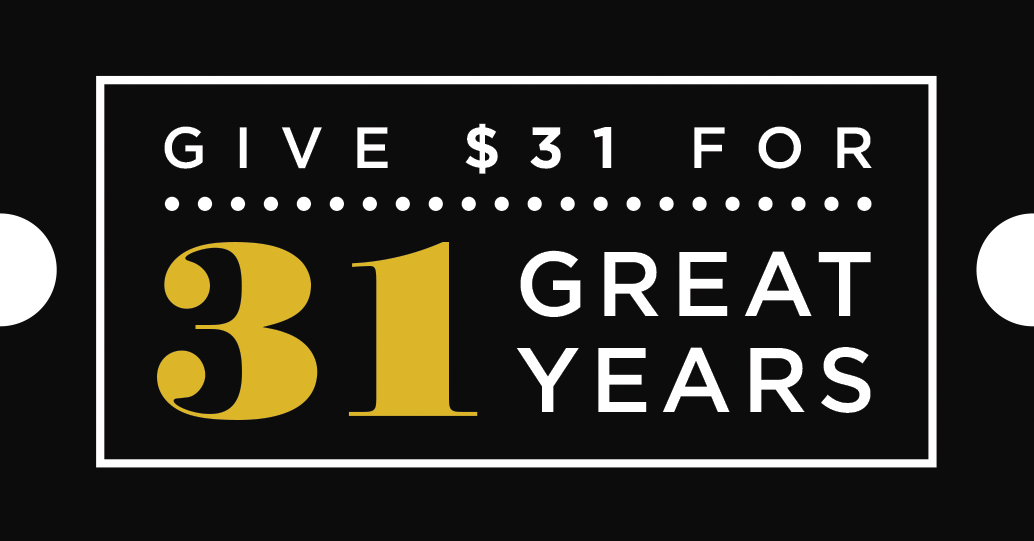 Help Scena raise vital funds during its 31st Anniversary!
The timing of your gift is critical. We aim to continue staging world-class plays in DC and we must raise sufficient funds to achieve this. Please remember: box office receipts only cover 20% of our operating costs, and oftentimes we are forced to discount our tickets for groups, promotions, and the like. So please help us now—and your donation will help us cover key artistic expenses so we can continue to produce great live theatre in Washington, DC. The fastest way to support SCENA is with a secure, financial donation. Just click on the Donate button below.
Your gift of $3,100, $310 or even $31 will fund vital expenses like:
•  stipends for our actors •  costume & set design
•  marketing campaigns •  great special events, or
•  theatre space rent •  playbill development

SCENA Theatre is a nonprofit, tax-exempt 501(c)(3) organization (EIN 52-1681505).
All donations are 100% tax-deductible.

Your generous support will help us produce the best international live theatre in DC. It also facilitates cultural exchange between local and international artists. Naturally, the most powerful and immediate way you can support SCENA is with a financial donation. After all, producing sensational theatre in DC is so challenging today because the cost of living in our nation's capital is tremendous. But, your generosity will make a huge difference. To donate, click on the Donate button below to give by credit card. Or mail a cheque to: SCENA Donations, 1050 17th Street NW, Suite 1000, Washington, DC 20036.

You can also help SCENA by volunteering in fundraising, development, or office management. We also need volunteers at performances and special events to help make live theater in DC a thriving and enjoyable experience. No matter how you help out, your generosity and effort will help sustain a vital cultural institution in Washington, DC. From all of us at SCENA, thank you for your generous support. We look forward to seeing you at our upcoming production, at a future staged reading, or at a special event. Together, we can support live theater in DC and continue to preserve classic and new works from Europe, America, and beyond.

Thank you for keeping international, sensational theatre in DC.